ABOUT US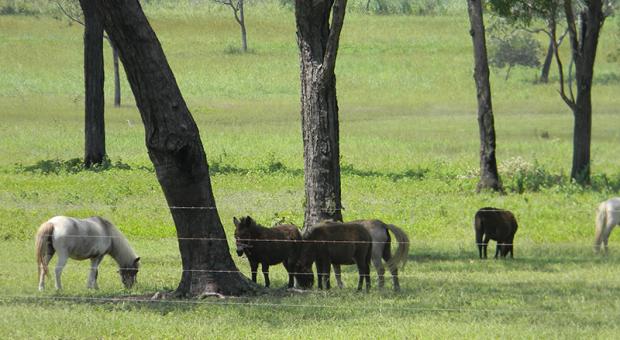 ABOUT THE STUD
Red Rocks Stud is a small stud which aims to offer quality over quantity. We are located in the Top End of the Northern Territory approximately 100km south-east of Darwin, Australia. Our climate is tropical and monsoonal with a six month 'dry season' of no rain, cool weather and very dry conditions, and a six month 'wet season' of tropical storms, monsoonal rain and hot humid weather. The animals we breed must be robust, adaptable and hardy.
Which is why we chose to breed miniature mules. Our foundation stock have all come from various parts of Southern Australia in the more temperate and much colder climates and with careful management have all adjusted to the tropics. We run our stock in very large paddocks (50 – 100 acres) giving them access to a variety or grasses, shrubs and herbage and ensuring they have enough room to play and practice normal herd behaviour. In the dry season they are supplemented with hard feeds and have constant access to minerals year round. Mares in foal are fed throughout pregnancy to ensure healthy progeny. Our stock are always run in herd groups to allow for normal behaviour and psychological well-being as well as physical benefits of healthy hooves, regular exercise and emotional stability. Should an animal need to be separated they are always in a small paddock near the house with constant stimulation and interaction from other stock and humans.
We also breed working horses that are used to muster cattle, pleasure ride and compete in any events as time allows. Our guidelines are simple. Excellent temperament, smooth movement, strong healthy hooves, adaptable to many environments, low maintenance and with a good solid work ethic. Our lines are a mix of Quarter Horse, Waler, ASH and Arab.
In addition to breeding horses and mules we also breed Brahman cattle and offer a range of services. These include Contract Mustering, Cattle husbandry and yard work, Fencing, Animal Nutrition Advice, Equine Red Light Therapy as taught by Di Jenkins. Horse training and Rider Coaching.
PHOTO GALLERY